Buy Wholesale Hazelnuts
Sustainably grown in Oregon's Willamette Valley
Why Hazelnuts?
Plant-based foods and beverages are growing nationwide, and hazelnuts are a rising star: Consumers are enjoying more hazelnuts for a variety of reasons: superior taste, quality, health and nutrition attributes, and availability.
Growth in plant-based/protein rich foods is exploding!
With plant-based food consumption experiencing rapid growth, hazelnuts have grown in popularity and are quickly establishing themselves as the new nut, leading innovative product launches in top growing categories.
Specialty Food 5 Year Category Growth (2019-2023)*
Food & Beverages Total: 26%
Chocolate & Candy: 21%
Nuts & Trail Mix: 19%
Plant-Based Milk: 24%
Bars & Gels: 31%
Creams & Creamers: 37%
Nuts & Seed Butters: 20%
*Source: Specialty Food Association Category Tracking & Forecasting 2019/2020 Edition
Reliably the best: Taste, Quality, Supply, & Food Safety.
Hazelnuts grown in Oregon offer PREMIUM TASTE and HIGHEST QUALITY, when compared to the global supply.
Single Origin: Oregon
Due to its unique location on the 45th parallel, Oregon's moderate climate, ample precipitation and rich volcanic soil provide ideal growing conditions
Preserved freshness
As soon as our hazelnuts are shelled, we put them in cold storage to preserve their freshness
We use advanced steam pasteurization
Best handling
Latest electronic nut-sorting technologies
Best-in-class inspection and grading procedures that exceeds USDA standards
Safest supply
Highest food safety standards
SQF-3 certified
Sustainable Farming
We are stewards of water, land and bees.
Hazelnut trees are self pollinated and bee-friendly
Hazelnut require a mild climate and don't need irrigation
Domestic sales = reduced carbon footprint
U.S. Hazelnut Industry In-Shell Harvest Volume Forecast in Tons*
*Source: NASS (National Agricultural Statistical Survey)
Ingredient Specifications
In-Shell
Whole Natural kernels*
Whole & Broken*
Diced*
Sliced
Natural Meal
Paste
Butter
*Available in Natural or Roasted
Packaging formats*
Hazelnut Items**
50 lb Bag
25 lb Box***
Pouch
(6, 8, 12, 16 oz)
4/5 lb Case
5 kg Pail
20 kg Pail
In-Shell
yes
Whole Natural Kernels
yes
yes
Whole & Broken
yes
yes
Dry Roasted Whole
yes
yes
yes
Seasoned Whole Kernels
yes
yes
yes
Dry Roasted Diced
yes
yes
Diced Natural
yes
yes
yes
Natural Meal
yes
yes
Sliced Natural
yes
yes
yes
Hazelnut Butter
yes
yes
Hazelnut Paste
yes
yes
*Supersacks, drums and other packaging sizes are available as needed.
**Not limited to these items. Custom specifications available upon request.
***25 lb box is nitrogen flushed and vacuum packed to seal in freshness.
Pallet/Bulk
5 kg Pails
20 kg pails
50 lb Bags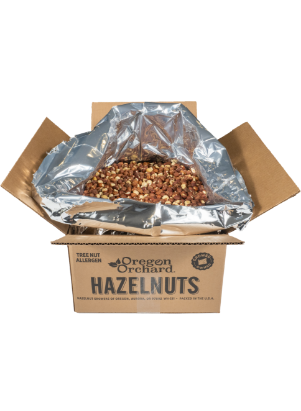 Vacuum Packed Kernels 25 lb
Drums
Export Inshell
4/5 lb Boxes
Ordering Information
Contact us for current pricing or to place an order: