Annual Full Box Produce Sale: Oregon & Washington
Event Date
Friday, September 8th 8:00am
Through
Sunday, September 10th 6:00pm
Location
Oregon & Washington Wilco Farm Stores
---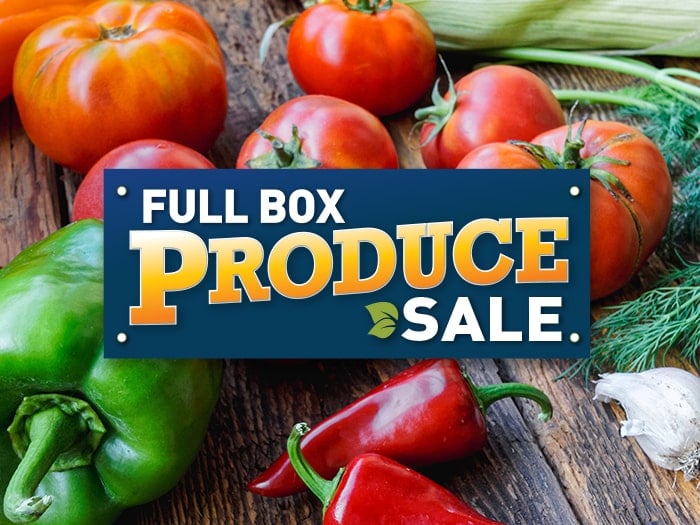 Description
---
3 Days Only | Starting Friday, September 8th
It's almost time to "pick your peppers" for pickling, or salsa, and more! Wilco's Annual Full Box Produce Sale is back! Being a farmer-owned Co-op, we are proud to partner with farms on the west coast.
Stop by the Produce Sale at your local Wilco Store September 8-10 to get what you need for canning, freezing, and preserving. Visit early for best selection.
OREGON & WASHINGTON PRICE LIST
Jalapeño Peppers
10lb
$20
Anaheim Peppers
10lb
$20
Green Bell Peppers
25lb
$27
Red & Yellow Bell Peppers
10lb
$25
Roma Tomatoes
25lb
$29
Local Canning Tomatoes
20lb
$31
Pickling Cucumbers
20lb
$36
Green Beans
15lb
$34
Carrots
25lb
$16
Yellow Onions
25lb
$18
Red Beets
25lb
$32
Bi-Color Corn
48ct
$40
Dill Bunch
$5
Garlic Clove
$1
Local Canning Peaches
20lb
$41
Bartlett Pears
28lb
$34
Gala Apples
20lb
$30
Hermiston Watermelon
$8
Visit early for best selection. While supplies last. Availability of produce may change due to market conditions. Produce is sold only in full-box quantities, not individually. In-store only.
Fresh & Local Produce
Sourced from farms in the West, some right by a Wilco Store!
| | |
| --- | --- |
| Cal Farms | Clackamas, OR |
| Christopher Ranch Farm | Gilroy, CA |
| Delta Farms | Portland, OR |
| Fazzio Farms | Portland, OR |
| First Fruits Farms | Walla Walla, WA |
| Greenhouse Delight Farm | BC, Canada |
| Hilltop Farms | Portland, OR |
| Inaba Farms | Yakima, WA |
| Montecucco Farms | Canby, OR |
| Serres/Inaba Farms | Clackamas, OR |
| Stemilt Farms | Wenatchee, WA |
| Sunset Farms | Prosser, WA |
| Walchi Farms | Hermiston, OR |
| Washington Fruit Farms | Yakima, WA |
STOCK UP ON CANNING SUPPLIES
STORE HOURS
Monday – Saturday 8 am – 8 pm
Sunday 9 am – 6 pm
SAVE EVENT ON FACEBOOK